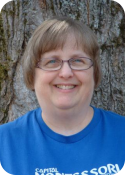 Mrs. Noble
Head Teacher
Mrs. Noble founded Capital Montessori School in 1988 and has been the school's only owner. Helping children achieve their maximum potential through the Montessori Method has become her lifelong passion.
When her firstborn turned three, Mrs. Noble became more and more challenged to meet her child's academic desires. Desiring the best for her daughter, she began researching her options when she ran across the Montessori Method. After seeing the results in her own children, she has made it her life's work to help other children reach their full potential.
Mrs. Noble has been involved in Montessori education since 1982. She has taken both the Primary & Elementary Montessori training at Spring Valley Montessori. In addition to being the owner & administrator, she is also one of our Elementary Teachers.  She and her husband have two grown children.
mrs.noble@capitalmontessorischool.com